From the thousands of programs for design today, you will find one that seems meant only made for you. It's like a calling that makes you feel more comfortable.
If you are entering the designing game, you would be wondering many things. All those names might sound similar. Photoshop, illustrator, AutoCAD, Coreldraw, and InDesign, all may sound the same, but has different purposes. What is the difference between Autocad and Coreldraw you say?
Well, AutoCAD is an industrial-grade 2D/3D designing software. Coreldraw is a vector Illustration program. Confused? Worry not! Cause we are going to talk about it in detail today.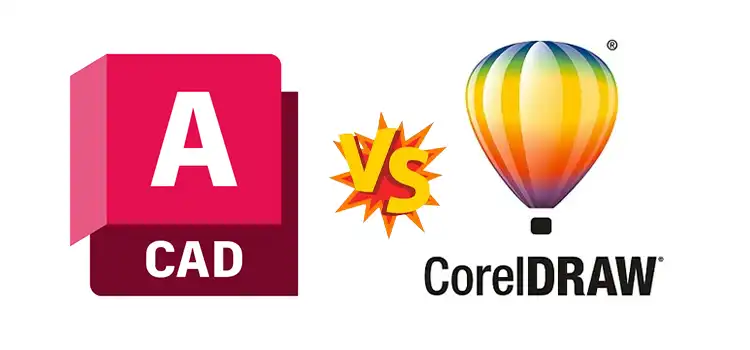 What Makes AutoCAD And Coreldraw Different From Each Other
As we have already mentioned, although both AutoCad and Coreldraw are design-related software, they have very different uses in the industry.
While Autocad is used by engineers, architects, construction organizations, and designers to build a specific product design in 3D, house or construction design of high-rise buildings, 3D modeling of different surfaces, objects, and views, Coreldraw works more like an illustrator.
Well, Coreldraw is not as powerful as Adobe Illustrator itself, Let's be clear about it, but it is a great vector design software that has a lot of potential. It can do a lot of the designing aspects like logo designs, customization, editing, and anything in between perfectly. It can also collaborate with Illustrator as the file formats do support it. You will find a lot of artists start with Coreldraw and move on for better touches in Illustrator. 
To make it more simplified, here is a chart to give you the full perspective of the difference between AutoCAD and Coreldraw.
| | | |
| --- | --- | --- |
| Content | AutoCAD | CorelDraw |
| Main Purpose | 2D and 3D modeling CAD software | 2D vector graphics software |
| Used By | Engineers, architects, designers, construction companies, building organizations, large industrial corporations, or individuals who create technical designs and drawings | Graphic designers, artists, graphic editors, creators, and professionals who work with visual vector arts to create graphics |
| Working Features | 2D and 3D modeling, drafting, rendering tool | Vector drawing tools including effects, shapes, text, and customizable texts |
| File Compatibility | DWG, DXF, SAT | SVG, PSD, EPS |
| 3D Render Compatibility | Full 3D CAD | Basic 3D compatible |
| Automation and Scripting | Visual LISP | No scripting language or feature |
| Cloud Services | Available, Autodesk 360 | No cloud service is available |
| System Compatible | Windows, Linux, and Mac | Windows and Mac (No Linux) |
So, by now you are aware that AutoCAD and CorelDraw are two different software. They are used for different purposes and are very good at what they do.
If you are going to learn to design objects, rendering them in 3D like buildings, machine parts, and anything that is involved in engineering and manufacturing, AutoCAD is the one to go with.
CorelDraw is for your vector-based designs, used in print and digital media, editing and touching just like Illustrator, but less powerful.
Which Is Better Coreldraw Or Autocad?
Both CorelDraw and AutoCAD are best at what they do. If you think that Illustrator is superior, which it is, asking any artist or designer will get you an answer that CorelDraw is also a great option.
Some will combine or start with CorelDraw and then do the complex works in Illustrator. AutoCAD on the other hand is a combination of workforce types of things. You get to collaborate with other members of your team from Autodesk's cloud service. And it's meant for bigger projects that need a 3D visualization of the objects.
FAQs (Frequently Asked Questions and Answers)
Is CorelCAD better than AutoCAD?
CorelCAD is almost the same as AutoCAD doing basically the same 3D designs, architecture 2D output, and so on. It's a good alternative as it requires less time learning, unlike AutoCAD. But no, it is not better than AutoCAD as it lacks a lot of key features and customizations.
What is CorelDRAW best used for?
CorelDraw is best used for its vector graphic design, which is easier than any other designing software. As the file formats are compatible with other graphic software, it gives the artist the ability to work on different platforms, and software. But it is best used for any logo, print or digital media design, poster design, and a bit of 3D animation here and there.
Is CorelDRAW a CAD program?
No, CorelDraw is a vector graphic program.
Conclusion
The question of getting two different software mixed up is understandable, as they are both used in designing. Although used in the design, AutoCAD and CorelDraw serve very different purposes. And both of them are good at it. If you want something similar to AutoCAD, there is CorelCAD, from the same Corel developers.