Photoshop is considered one of the renowned photo editing software and has more than 15 million users. It has been found that 8 out of 10 professional editors depend on Photoshop for their photo editing tasks. CC and CS6 are the two versions of Photoshop that many users prefer most.
But when a new user wants to utilize Photoshop for doing their editing stuff, he/she often gets confused about which one to choose between Photoshop CS6 and CC. And if you're one of them then there's nothing to worry about!
This post will show you the differences, pros, and cons of both Photoshop versions to make your decision more convenient. So, without wasting time, let's get into them.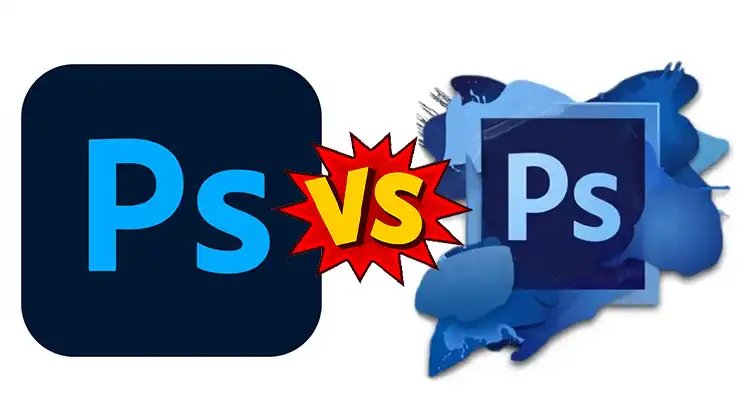 Differences Between Photoshop CC and CS6
To find out the better one between two things, it's a must to know the differences between them. That's why we're going to share a quick difference table for easier understanding. Have a look at it –
| | | |
| --- | --- | --- |
| | Photoshop CS6 | Photoshop CC |
| Features | Photo and video edit, Digital illustrations | Photo and video editing, digital illustrations, 3D effects, animation, RAW filter |
| Availability | Discontinued | Available from AdobeAvailable at per month cost |
| Support | Only third-party web sources | Both Adobe and third-party web sources |
| Pricing | One-time cost required by the third-party seller | $20.99 per month |
| Discounted Price | No discount | Available |
The CC is Photoshop's latest version that is available on the Creative Cloud platform and that's why it's called CC. You can purchase this only with a monthly subscription to get the latest patches and updates. It not only comes with photo editing features but also graphic design, 3D effects, animation, etc. Therefore, it's considered one of Adobe's most used applications worldwide. 
On the other hand, Photoshop CS6 is an older version and the sixth (also can be said the final) product of the Creative Suite series. After that, the production turns to the Creative Cloud. It offers Photoshop's maximum effective functions along with drawing and editing photos.
From the table, it's clear that the CC offers more features, availability, and support compared to the CS6. At this point, it can be said that CC seems superior to CS6. It'll be even more clear after you get to know about the pros and cons of them.
Pros and Cons of Photoshop CC and CS6
Now that you know about the differences, it's time to go for the pros and cons of them. Let's start with Photoshop CS6 –
Photoshop CS6
Pros –
Features maximum functionalities for creating new artwork and editing any images.
Offers one-time cost which is less expensive compared to the per month subscription.
Its user-friendly interface and providing lessen features than Photoshop CC makes it easier and lighter to use conveniently.
Cons –
As it's discontinued right now, you can't find it on Adobe's official page. The only way is through online third-party sellers.
Being an older version, it doesn't have the latest and advanced features like the CC.
Doesn't support cloud facilities. So, you need to install and secure the program along with the installation key for future purposes.
Photoshop CC
Pros –
Its various brushes make the illustration more and more convenient to use.
Has the latest, most advanced, and most powerful tools to accomplish photo and video editing, graphic designing, animation, etc including illustration.
Offers so many useful plugins to ensure a variety of customizations.
Cons –
The interface isn't as spontaneous as Photoshop CS6 due to its numerous features.
The monthly cost can be problematic at some points.
It offers the steep learning curve feature which is not an easy option for beginners.
Our Verdict
In short, it can be said that Photoshop CS6 provides standard image editing tools, a free-form pen tool, and smart objects. For your information, it is also backward compatible with old plugins.
On the contrary, Photoshop CC not only contains CS6's overall features but also provides the latest plugins and more advanced photo editing functionality.
Therefore, it's better to have Photoshop CC if you're a professional and can afford the monthly subscription cost. Otherwise, you can go for the CS6 as it'll be sufficient for basic creating and editing.
Frequently Asked Questions and Answers (FAQs)
Is Photoshop CS6 still good?
The fact is you can still do any basic level editing with Photoshop CS6. There won't be any difficulties with it. But it can't offer you the available advanced and latest features. Moreover, being discontinued it doesn't have update support now. So, the latest version of the operating system perhaps rejects operating it considering it outdated.
Is Photoshop CS6 free?
Well, it never was free actually. When it was available from Adobe, it comes with a one-time cost. But as Adobe has discontinued it, now you really can't find or buy it on Adobe's official website. The only way to get it is from another party who is eager to sell it.
Which version of Photoshop is best?
Undoubtedly, Photoshop CC is the best version of Photoshop yet. The reason is it's the latest version with online update support, provides the newest features and patches, and has all the necessary tools to do all types of digital media editing. The only consideration here is its per-month subscription fee.
Conclusion
By now, we've shared all the relevant information about Photoshop CC and CS6 that should help you to decide which one you may prefer. We highly recommend using Photoshop CC if you can afford the software requirements and per-month subscription fee. If you find this post helpful, feel free to share your valuable feedback.